Dr. Melanie Davis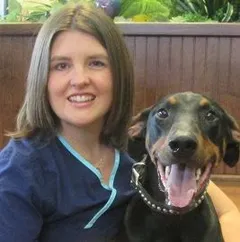 Dr. Melanie Davis, a.k.a. Dr. Davis, Dr. Melanie or Dr. Mel, has been a resident of Collin County since 2003. She worked at a small animal clinic in McKinney from 2003 to 2012 where she provided preventative, sick and emergency care for her beloved patients. While Timber Ridge Animal Medical Center was in the planning and building process she was a relief veterinarian at several different hospitals in the Dallas-Fort Worth area and at the Emergency Animal Hospital of Colin County.
Dr. Melanie has dreamed of being a veterinarian since she was knee high. She grew up in Houston, TX and made her way to College Station as soon as she could. She earned her Bachelors in Biomedical Science from Texas A&M in 1999 and her Doctorate of Veterinary Medicine from Texas A&M in 2003. Throughout her college career she spent her non-school time working at a small animal clinic during the day and waiting tables at night. Her love of animals, people and medicine has always been a driving force to help her reach her goals.
Some of Dr. Melanie's special interests include internal medicine, dermatology, cardiology and soft tissue surgery. She is experienced in everything from routine procedures to intensive care and advanced surgical and dental procedures.
Dr. Melanie and her husband share their home with their two daughters, three dogs, Mabel, Catfish and Goose, two cats, Kinney and Judge Roy Bean and a fish tank or two. She also claims Waylon and Willie, but they're pretty sure they own the clinic and we are all just visiting. Their house is always a happening place and they couldn't imagine things any different. In her free time she enjoys spending time and having fun with her family and friends, going to neighborhood and community events, cooking, going to sporting events and you may catch her at a refit or yoga class too. Dr. Melanie feels blessed every day because she gets to do what she loves using her veterinary knowledge and skills to help others.

Dr. Devony Arrington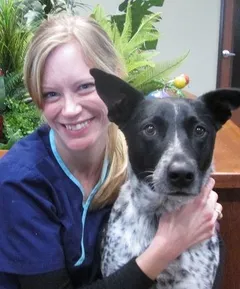 Dr. Devony Arrington graduated from Texas A&M College of Veterinary Medicine in 2010. She completed an internship at an equine only practice in Austin and then moved with her husband to McKinney where she worked at a small animal practice for two years. After several years at a mixed animal practice in Austin, Dr. Devony returned to the Collin County Area and has joined our team at Timber Ridge Animal Medical Center.
Dr. Devony and her husband, Andy have two cattle dogs, Holly and Rue, and one cat, Grace. They also enjoy spending time outdoors with their two horses, Frankie and Chelle. They are expecting their first two legged addition to the family in April of 2017 and can't wait. When not busy with all of their furry family members , Dr. Devony enjoys swimming, reading, and hanging out with friends and family.
Dr. Devony enjoys many aspects of veterinary medicine, particularly internal medicine and dentistry. She has been focused on pursuing a veterinary career since volunteering with a local veterinarian growing up in Little Elm, and considers herself very fortunate to have been able to pursue something that she loves. She enjoys the challenge and variation in daily practice and is looking forward to getting to know all of her patients and clients.
Dr. Katherine Lutz
Dr. Katherine Lutz grew up in Tyler, Texas; otherwise known as the Rose Capital of East Texas. She graduated with her bachelor's degree in Animal Sciences from Auburn University in 2013 and continued on to Kansas State University where she received her Doctorate of Veterinary Medicine
Dr. Lutz's veterinary interests include emergency medicine and critical care, radiology and working with exotics and pocket pets. She also has a passion for client education and loves to help pet owners learn how to be care for their furry family members. Dr. Lutz has wanted to be a veterinarian since she was 5 years old and is very blessed and so excited that she has been able to pursue that lifelong goal. She is very grateful for the opportunity to help others and is eager to make a difference in her community.
Outside of working in veterinary medicine, Dr. Lutz enjoys trips to the beach, singing, and watching sports, especially football. Go Cowboys! She also loves spending time with her family and her dog, Cooper.